GloWILD!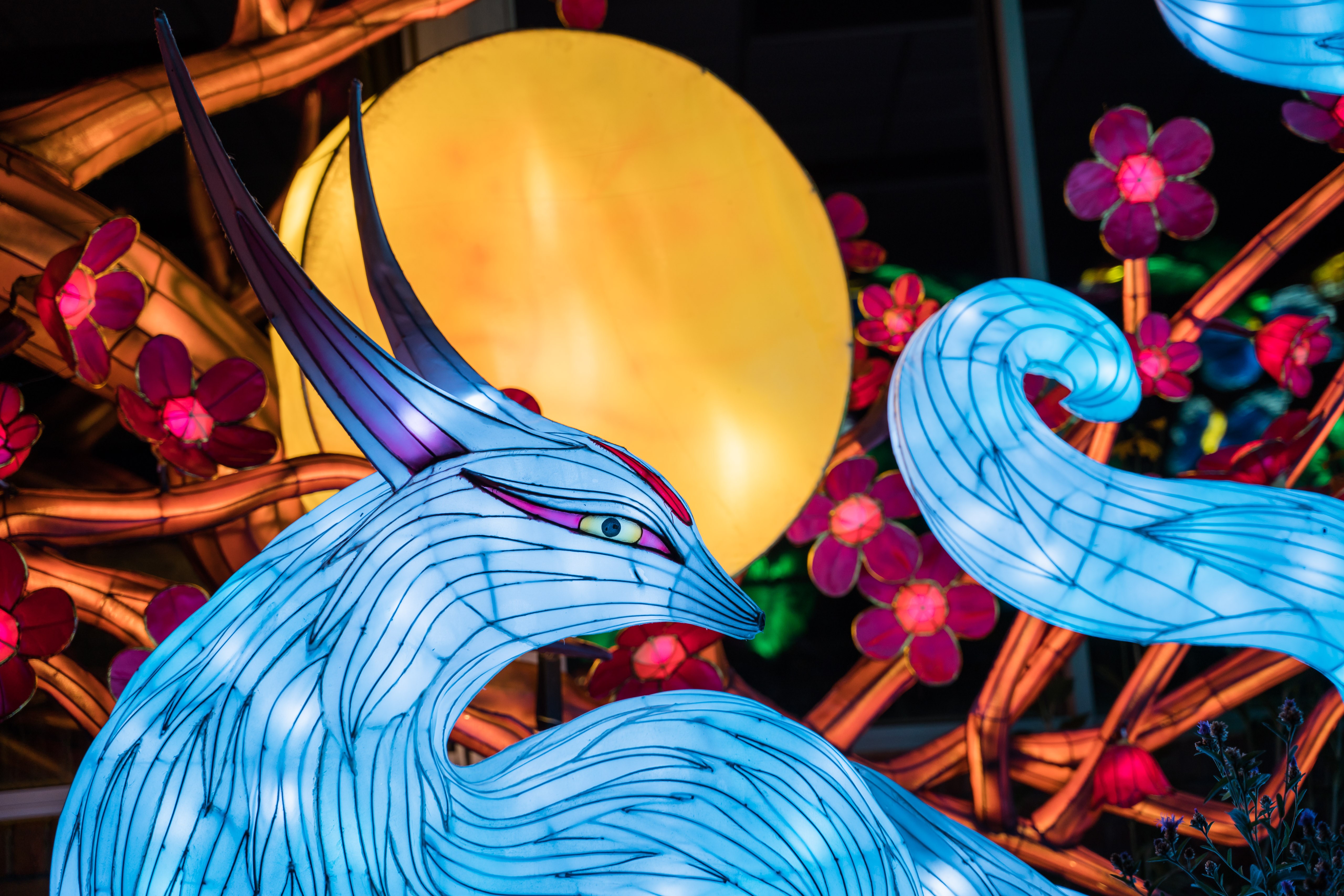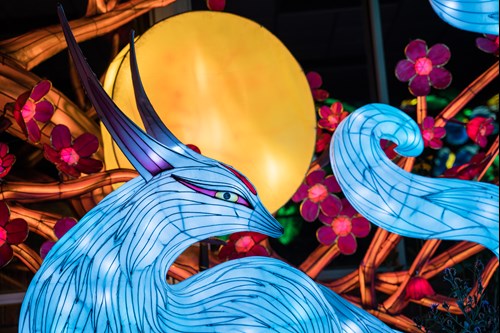 The LARGER THAN LIGHT GloWild Lantern Festival returns this holiday season! You'll see the Little Rock Zoo in a whole new light!
Walk into the magical and mystical world of GloWild for this holiday season.  GloWild will include three unique spaces that will add sparkle and delight to your evening.  The first section will feature mystical creatures based on the stories and myths of Asian culture and lore.  Travel abroad and be amazed by huge dragons, gigantic birds, and other imagined beings. The bug section will show you in larger-than-life form the amazing features of insects.  Finally, the jungle animal section will show animals from jungles found all over the globe.  In one night, you go from the mythical to the mighty and majestic.  Come indulge your senses and create new memories at GloWild.     
As one of the nation's largest interactive light festivals featuring dozens of handcrafted silk-covered lanterns - this holiday event will not disappoint! As Little Rock's premier light festival, this uniquely- themed lantern light event will offer guests an immersive encounter like no other! And this year's event promises to be larger than light with NEW lanterns- like mythical creatures, bugs, and jungle animals- that will captivate your mind and capture your heart. GloWILD is illuminating fun for the whole family and a show that you don't want to miss!
Times: 5pm-9pm
2023-2024 dates and tickets: (Also see the calendar below) (get tickets here)
November 16, 17, 18, 19, 20, 21, 22, 24, 25, 26, 30
December 1, 2, 3, *7, 8, 9, 10, 14, 15, 16, 17, 18, 19, 20, 21, 22, 23, 26, 27, 28, 29, 30, *31
January 4, 5, 6, 7
* All guests are welcome for Sensory Night-Thursday, December 7, 2023-Event light and noise will be adjusted for sensory sensitivity
* New Year's Eve Party-December 31, 2023 - Free with your regular GloWild admission
Event Pricing:
$17 Zoo Members – Big Value! Family Four Pack $60 (get tickets here)
$20 General Public – Big Value! Family Four Pack $65 (get tickets here)
Kids 2 years old and younger are admitted for free
Parking is free during GloWILD!
Carousel $3 *Weather permitting*  (Train is not running due to construction in the area.)
                                         *Tickets may also be purchased at the gate*
We invite you to create new traditions for you and your favorite people during GloWILD!
GloWild is made possible by the Arkansas Zoological Foundation in partnership with Tianyu Arts & Culture.
This is a rain or shine event. *However, if there is inclement weather and the Little Rock Zoo must close, you will receive a notification by email.
Get tickets now for the larger-than-life light experience!  Have questions? click here 
Back by popular demand, GloWILD, returns for 40 fun-filled nights of illuminating fun at the Little Rock Zoo.
This lantern festival is done in partnership with Tianyu Arts & Culture, Inc.
New this year - Mythical Creatures!!  Explore a world of colorfully creatures that amaze and awe! Strange birds, dragons, plus other spectacular animal and holiday lanterns, make GloWILD an unbelievable sight to see! 

Become a sponsor! Learn more by clicking here.  Or e-mail here: ZooPartner@littlerock.gov
Select evenings November 16, 2023, through Jan. 7, 2024 (see calendar below and ticket sales link)
All nights GloWild will be open from 5:00 PM -9:00 PM
We will be open New Year's Eve.  We will not be open on Thanksgiving, Christmas Eve, Christmas Day or New Year's Day.  (see ticket sales link)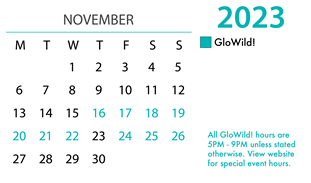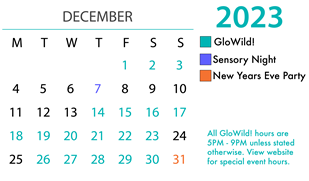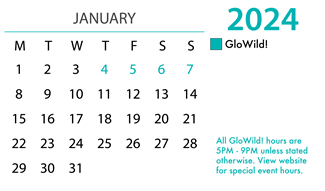 We all love lights! We are so glad you can come to see our at the GloWild a #OnceInALightTime event.  Don't know what to do with broken or old holiday lights at your house?  Donate them to the Zoo during our Conservation Event--Lights for Lions.   Read more about it here--> Lights For Lions 2023 | Little Rock Zoo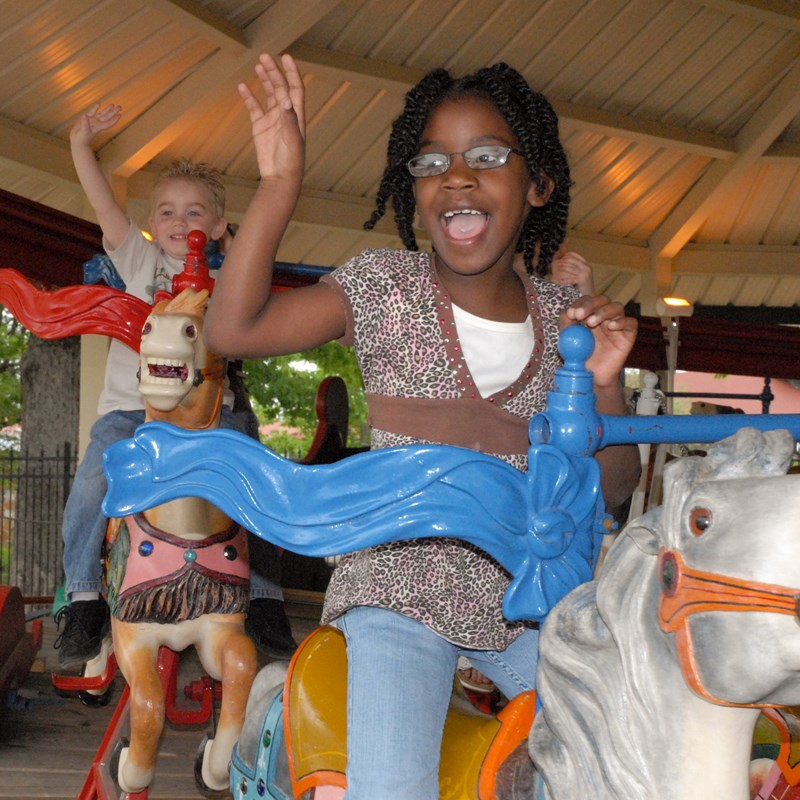 The Wildest Value in Town!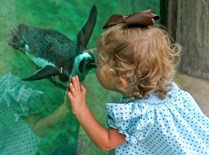 Memberships support the Zoo's efforts to promote conservation and education. It is the perfect way to benefit humans and animals, alike!
1 Zoo Drive
Little Rock, AR 72205
501-661-7200
Hours of Operation
9 a.m. to 4:00 p.m.
Last admission 4 p.m.
Zoo grounds close at 4:30 pm
Stay Informed!
Enewsletter Sign-Up
Sign up to stay up-to-date on the latest zoo news, upcoming events and deals.