Dates:
4/23/2022
- 4/23/2022
Join us April 23, 2022 for the 52nd  anniversary of Earth Day! The Little Rock Zoo is celebrating with our own Party for the Planet!  We are also hosting LR Recycles Day in partnership with the Little Rock Sustainability Office.   The Zoo will be the site for several exhibitors who will be providing information on their organizations as well as ways to keep our Earth clean and healthy!
Zoo activities
The day will include a scavenger hunt, an upcycled bird feeder craft activity, an animal ambassador show, recycling information for Little Rock Recycles Day, and an electric car demonstration and information. 
We will also feature a table for our electronics collection drive event for Gorillas on the Line. 
Exhibitors on Site
9:00 a.m. to 12:00 p.m.
Our current list of exhibitors includes the following:  ACE Glass, Recycle Bikes for Kids, eSCO (e-waste), Natural State Recycling (who will have a receptacle for collecting #5 plastics – which are not accepted in the curbside recycling program), ShredSmart (document shredding), and WM (who will have a front load style receptacle to capture single-stream recyclable material, such as what is put in your residential cart. Keep Little Rock Beautiful and the Little Rock Sustainability Office (LRSO) are organizing the event. 
Electric Car Demonstration
9:00 a.m. to 12:00 p.m.
Drive Elective will set-up in the Zoo parking lot to share information about, discuss and demonstrate electric cars.  
Animal Ambassador Show (Civitan Amphitheater)
11:00 a.m.
In this animal ambassador show, guests will experience rainforest birds, a warm climate penguin, reptiles, and small mammals.  Onlookers will get an up-close look at these animals and their abilities, and learn why each and every one of them is important to our planet and how humans can play their part to help them.  At the end of the show, audience members will be able to ask questions and chat with animal trainers.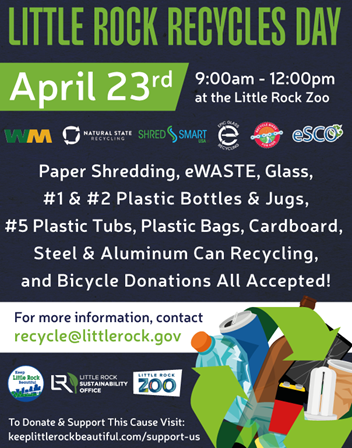 * Please confirm directly with the promoter or box office to ensure event details have not changed.
Stay Informed!
Enewsletter Sign-Up
Sign up to stay up-to-date on the latest zoo news, upcoming events and deals.